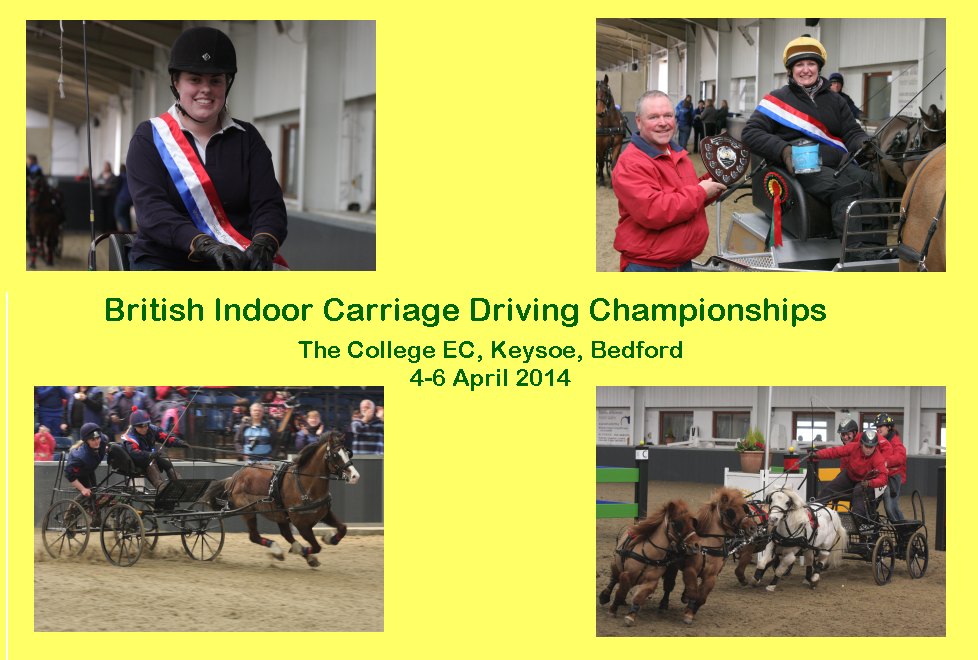 About the sport
The grace of Precision and Paces, the accuracy through the cones, the speed and thrills of the obstacles.

Based on horse driving trials, this is a full event in a few hours in the comfort and convenience of an indoor arena.

Spectators are always welcome, and this friendly sport is the ideal way into competitive driving.

British Indoor Carriage Driving Championships 2014 - Keysoe
Results Great event, many thanks to all involved

Latest News
SPONSORSHIP AND HELP

We urgently require Sponsorship and donations towards the running of the Finals at Keysoe.

Some classes ar...
Read more...
The Indoor Championships 2014.

Please note that Indoor Driving events are run under the BCd (BHDTA) National Rules with variations as stated in ...
Read more...
People say
It's fun, fast and furious.

Sara Howe - International driver and trainer
I love indoor driving because each phase is a different challenge - but the obstacles are best.

Grace - aged 9
We came thinking there was a car boot sale on, but the driving was so interesting and friendly we stayed all day to watch.

At Wix - surprised visitors
find us on Facebook

Carriagehouse Insurance sponsor the Ihdt national finals at Keysoe and offer many types of insurance for our members.

A great big Thanks to our class sponsors...
Huge Thanks to our trophy sponsors...
Class
Trophy
Sponsor
Supreme Champion
The Dick Carey Trophy
Presented by Mr. R.G Carey (Wheelwright)
Open Pony
The Lynn Harrington Memorial Trophy
In memory of Lynn Harrington, Supreme Champion 2003
Open Horse
The Henry of Stowell Perpetual Challenge Trophy
Presented by Mr. & Mrs. P. Nadin (Equifor Driving Equipment)
Intermediate Pony
Swingletree Photography Intermediate Pony
Presented by Mr. & Mrs. M. Willis (Swingletree Photography)
Intermediate Horse
Swingletree Photography Intermediate Horse
Presented by Mr. & Mrs. M. Willis (Swingletree Photography)
Pony Pair
Pony Pair Trophy
Presented in memory of Snowy Cleaver. Indoor Team member
Small Pony
Supreme Champion Trophy and sash
Presented by Sycamore Carriages
Small Single Pony & Small Pony Pair
Champion Trophies
Presented by Mr. & Mrs. J Liles (Jeff Liles Greeting cards)
Small Pony
Rosette and prize for best Small Pony P&P
Presented by Maria Keady
P & P Arena 1
P&P Shield for the Best P&P Score in Arena 1 on Friday
Originally presented by Carriagehouse Insurance
P & P Arena 2
JAKTAK Shield for The Best P&P in Arena 2 on Friday
Presented by Ginny Ashford
Open obstacles
Hartspur Trojan Perpetual Cup for
open competitor with fastest combined obstacle score
Presented by Katie Eyres
Novice Pony
Smartie Novice Pony Shield
Presented by Sarah Owlett
Novice Horse
Bradbourne Novice Horse Shield
Presented by Bradbourne D C
Junior
Junior Driver Trophy (10-14 yrs)
Presented by Sports Driving Unlimited